Construction scaffolding is at the very core of ASA's business, assisting both commercial builders and private individuals at every stage.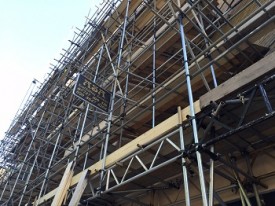 Whether you require industrial scaffolding over multiple sites, or planning an extension for your domestic property, ASA are able to cater for all your scaffolding needs. We work closely with each and every client, offering total support to ensure that access for your new construction goes exactly the way you want it to.
A common problem that faces all construction projects, both commercial and domestic, is phased work being finished behind or even ahead of schedule, leaving expensive tradesmen sitting around at great expense. At ASA we fully appreciate that things don't always go to plan, so help is never more than a call away. If your scheduling has changed and you need your scaffolding to be amended, taken down or even left up for longer than you first thought, just give our friendly team a call and we'll be happy to help you get your project back on track with the minimum of fuss. Yet another reason why we're fast becoming the first choice for both domestic and commercial scaffolding in London and the South East.
If you would like to find out for yourself why we're that cut above the rest and want the best scaffolders working on your project, contact us today and speak to our friendly team who'll be happy to discuss your requirements.