When your chimney is in need of repair, ASA can supply and fit a tailor-made chimney scaffold to ensure that all repairs can be carried out quickly and safely with easy access.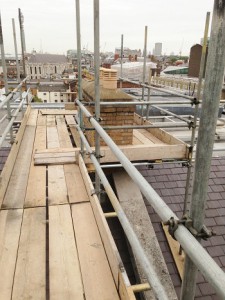 Chimney scaffolding, just like the chimneys themselves, come in all shapes and sizes and are largely dependant on the type of property and the type of repairs and materials that are required.
ASA are leaders in the field providing bespoke structures that are safe and secure to not only allow access, but also carry out repairs. Our highly skilled scaffolders, competitive pricing and attention to detail has positioned us a company used not only by the trade, but also homeowners and DIY enthusiasts alike to access and repair faltering chimneys. Whether you're looking to replace the chimney flashing or a complete chimney rebuild, ASA can provide you with a safe and secure chimney scaffold to complete the job.
If you require chimney scaffolding and would like to find out how ASA provide the best chimney scaffold hire available that won't break the bank, contact us today and speak to our friendly team who'll be happy to discuss your requirements.